Accomplished graphic designer with extensive experience designing for multi-platform channels. Ability to brand vision and work collaboratively with peers and stakeholders in support of organizational goals and objectives.​
Extensive experience working with the Adobe Creative Suite and Open Source CMS tools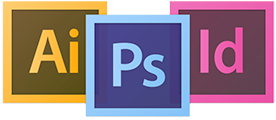 Ron is a friend and colleague, for whom I have a great deal of admiration. As a designer, Ron is an innovative thinker, with a knack for creating design solutions that connect well with target audiences. Ron is a team player with a great personality that allows him to work well with others. Ron is a seasoned designer with a diverse skill set, making him a unique addition to any team.
Working with Ron was one of the greatest times in my life! I was still taking design classes and learning the graphic design profession when I began working as his assistant at UNC Charlotte. I've always thought of Ron as my mentor and can't imagine going through life without his guidance. I don't think I'd be where I'm at without him. – Chris Smith
I've had the opportunity to observe Ron Lewis in several professional contexts. Whether he's in the boardroom or the classroom, he is the consummate professional, the person who listens to the conversation and from that produces a visual product that brings together elements you never would have imagined. Anyone who has worked with him knows that his passion is the visual.
I worked with Ronnie Lewis during his years of employment at the University of North Carolina at Charlotte. He is talented, creative, and always strived to produce the best quality result for each of the projects we worked on together. Ronnie Lewis' dedication to his profession, his ability to work well with others, and his creativity are 3 reasons why I recommend him without hesitation.
Contact Information

Ronnie A. Lewis
P.O. Box 680338
Charlotte, North Carolina 28216
Tel. 704 325 9864
Favorite Quote
"Look at a man the way that he is he only becomes worse. Look at him as if he were what he could be, then he becomes what he should be."
– Goethe
Keys to Success
Having a mastery of industry tools is just one step in becoming an effective designer. Equally as important, is knowing how to communicate vision.
Connect
Stay in touch with me on one of the following social media platforms: